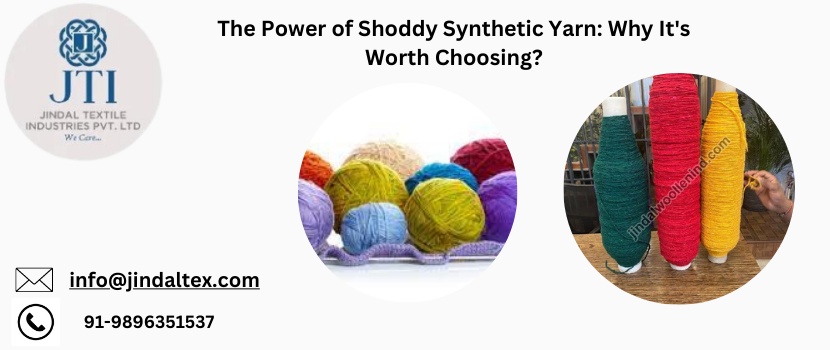 The decision between natural and synthetic fibres in the context of textile materials has long been controversial. Wool and cotton are examples of natural fibres that may offer benefits. However, there are a number of solid arguments in favor of using shoddy synthetic yarn.
Let's discuss the benefits of using synthetic yarn, emphasizing its toughness, adaptability, and eco-friendliness. We can better appreciate why shoddy synthetic yarn is a great option for many applications by examining these factors.
Enhanced Durability:
The excellent resilience of cheap synthetic yarn is one of the main justifications for using it. Synthetic yarn, in contrast to natural fibres, has strong characteristics that make it extremely durable.
This toughness guarantees that the yarn will hold up to frequent use without losing its quality. Synthetic yarn demonstrates durability whether it is used for knitting, handicraft, or the production of textiles. Due to this, it is a dependable choice for individuals looking for items with long lifespans.
Versatility in Applications:
Poor-quality synthetic yarn provides unmatched adaptability in a variety of applications. It is perfect for making different textile items due to its inherent strength and suppleness. Synthetic yarn may be used to create a variety of fashionable and useful goods, from apparel and accessories to upholstery and home furnishings.
Furthermore, a wide variety of hues, textures, and thicknesses are offered in synthetic yarn. This opens up many design options to accommodate personal tastes.
Easy Maintenance:
The usefulness of synthetic yarn also extends to its minimal maintenance needs. Contrary to natural fibres, which frequently need particular care, synthetic yarn is typically stain-, shrink-, and stretch-resistant.
This makes it a fantastic option for folks who are busy or want hassle-free upkeep. Because of this ease, synthetic yarn goods keep their integrity and beauty. Keeping them in top condition needs little effort.
Cost-Effective Option:
Making the decision to use shoddy synthetic yarn might also save money. Synthetic yarn is often cheaper than natural fibres. As a result, a larger spectrum of customers may access it. People may pursue their artistic endeavors without breaking their pocketbook because of its accessibility.
Long-term cost advantages are also made possible by the durability and minimal maintenance requirements of synthetic yarn. Reducing the need for regular replacements or specialized cleaning procedures makes this achievable.
Eco-Friendly Attributes:
Poor-quality synthetic yarn has come a long way towards being more environmentally friendly. Today, several producers make synthetic yarn from recycled resources. This lessens trash and the burden on the environment.
In addition, the energy and water requirements for producing synthetic yarn are frequently lower. When compared to how natural fibres are made, this is the case. People may help the textile industry become more sustainable by selecting shoddy synthetic yarn made from recycled resources.

Poor-quality synthetic yarn stands out as an attractive alternative when it comes to selecting the best yarn for a variety of applications. It is a desirable option due to its increased durability, adaptability, simplicity of maintenance, cost-effectiveness, and environmental friendliness.
People can gain by accepting shoddy synthetic yarn. It contributes to a more sustainable future while being a durable and low-maintenance material. So, think about the benefits of shoddy synthetic yarn before starting your efforts, whether you're knitting a jumper or reupholstering furniture.